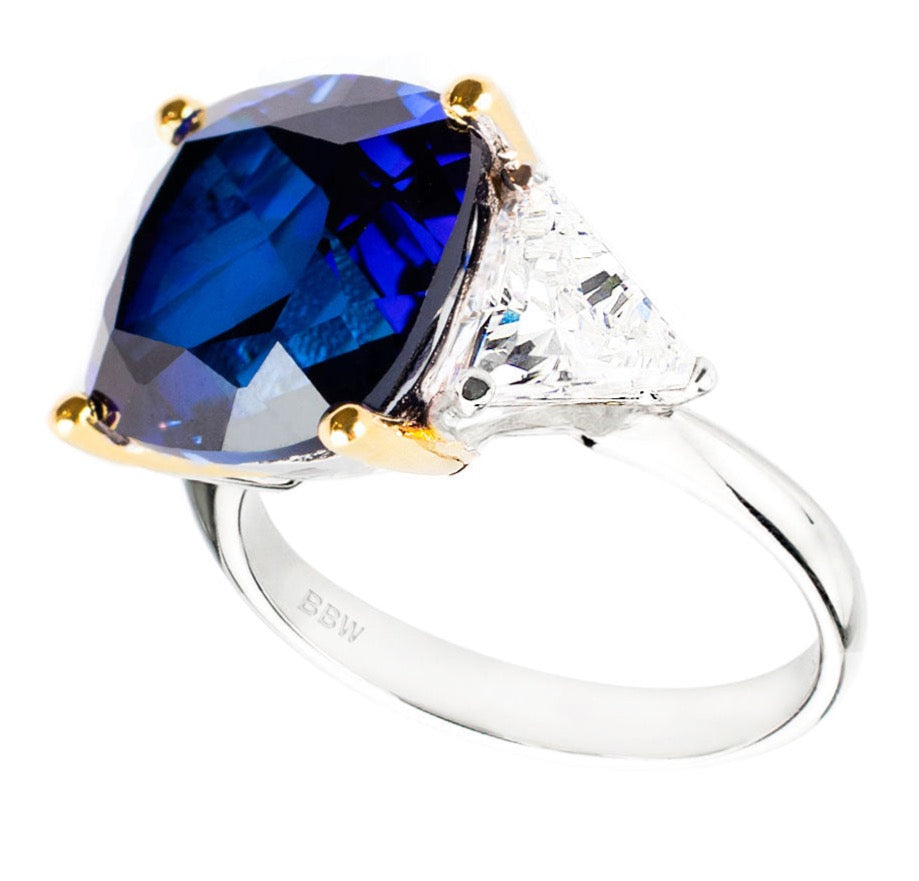 Sterling Silver Lab Created Sapphire Cushion & Clear Trillion Ring with 18 KGP Prongs
$695
Z30304-4.5
Please view videos below this product description.
Product description:
Mesmerizing lab created sapphire cushion cut center stone is exquisitely regal.  Achieving this brilliantly hued color, while still ensuring maximum light refractivity, is a design marvel. Center stone is faceted in such a way that the light return dances off the rich and intense blue hue with astonishing brilliance.
This elegant ring features a 12mm cushion cut lab created sapphire, and weights approximately 8.25 carats, due to the depth of stone in setting and density of the stone. Our stones are cut with the ideal carat weight for maximum light refractivity dependent upon color. Center stone is flanked by two clear trillion (triangular) cut stones for a modern and alluring statement. Clear shoulder stones draw the eye to the prismatic play of light within the center stone.
Meticulously modeled after the most exceptional estate jewelry, the beauty of the center stone is complemented by 18 karat gold plated prongs. Bling by Wilkening gold plating is four times thicker than the industry standard to ensure unparalleled quality and durability.
Please view additional image of ring shown on model's hand for size scale.
*Please indicate your ring size in the sizing box. If your size is sold out, or is not listed, please email contact@blingbywilkening.com or call our office at 505-280-8637, so that we may check size availability across our additional locations.
Ring will come packaged in a beautiful organza bag with enclosure card, inside of a silver gift box, with satin lining and bow.
Material Content: Sterling silver, finest grade hand faceted and hand set clear cubic zirconia and lab created sapphire, precious rhodium (platinum) plating, 18 KGP prongs
*Please view 360 degree video of ring shown directly below. Additional video also showcases ring on model's hand.