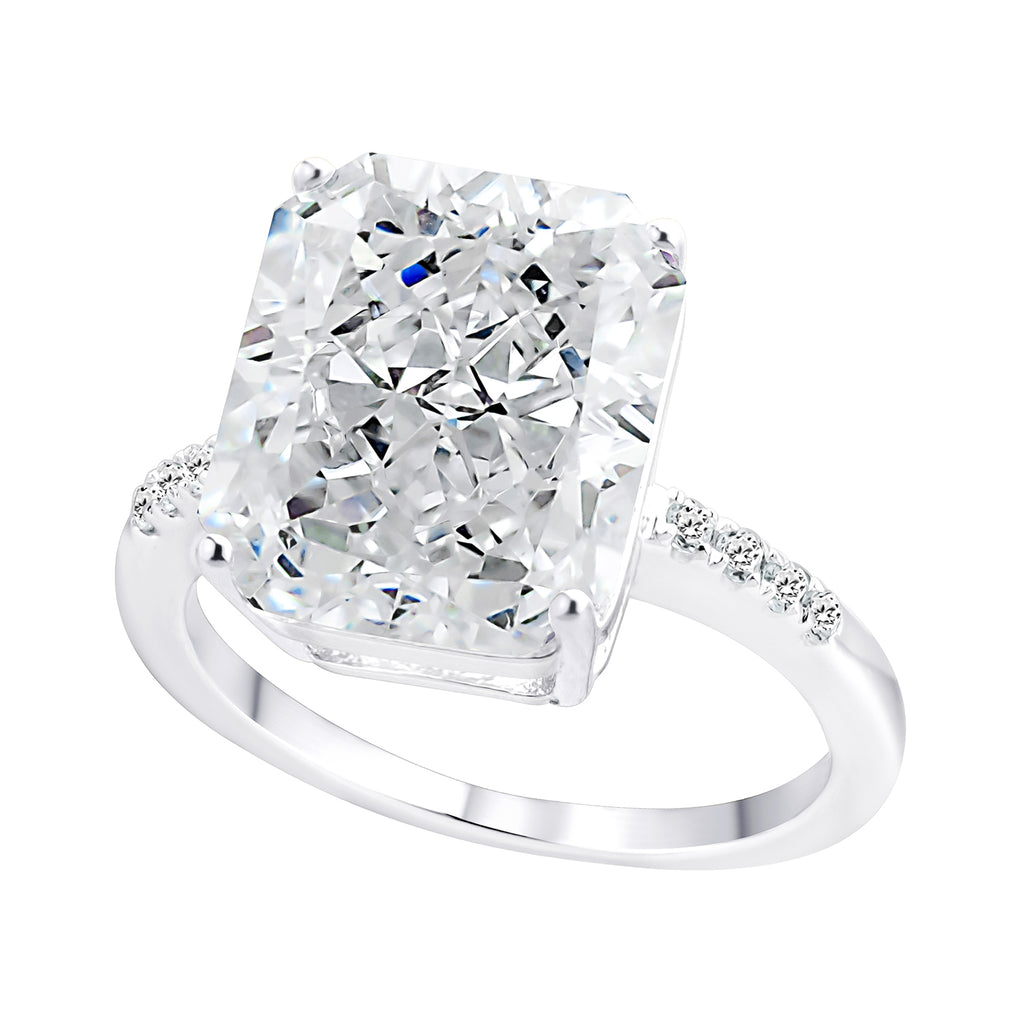 Sterling Silver Clear Rectangular Crushed Ice Cut Sedona Ring
$649
Z30306-4.5
Please view videos below this product description.
Product description:
This breathtaking new stone faceting is called a crushed ice cut, and is a feat of consummate craftsmanship. The luminary of the design is small facets at the base of the stone that scintillate with fire and life.
With cutting edge technology and meticulous precision, these small facets enable light to bounce and absorb brilliance from each facet, thus giving the appearance of crushed ice. The light refractivity is absolutely mesmerizing. The extraordinary classic band is the perfect compliment to the center stone. Band features clear brilliant stones, each set with 4 prongs per stone, for unparalleled quality and durability.
Center stone is an 11mm x 13mm octagonal rectangle, and weighs approximately 10 carats, due to the depth of stone in setting and density of the stone. Crushed ice stones are taller with a longer center portion (girdle). This allows for more surface area with the tiny facets.  The pavilion of the stone (point underneath) is slightly deeper as well, thus creating a heavier carat weight. Our stones are cut with the ideal carat weight for maximum light refractivity. 
All stones are clear, but are shown reflecting other colors because of the brilliant faceting. 

Please view additional image of ring shown on model's hand for size scale.
*Please indicate your ring size in the sizing box. If your size is sold out, or is not listed, please email contact@blingbywilkening.com or call our office at 505-280-8637, so that we may check size availability across our additional locations.
Ring will come packaged in a beautiful organza bag with enclosure card, inside of a silver gift box, with satin lining and bow.

Material Content: Sterling silver, finest grade hand faceted and hand set clear cubic zirconia, precious rhodium (platinum) plating
*Please view 360 degree video of ring shown directly below. Additional video also showcases ring on model's hand.